How to choose the size of your advertising banner: the most efficient formats
There are certain areas in which size matters… And digital marketing is clearly one of them.
If you are planning to invest in advertising on Google, one of the most important things to consider (but one that often goes by the wayside) is the size of your banner advertising. Indeed, the right format can considerably increase your number of clicks, and therefore sales.
Online advertising is the most effective marketing lever. If you want this to work, serving internet advertisements such as banners is essential, make sure they are visible. Advertising via graphical advertising space is generally referred to as Display Marketing. Through targeted integration ads on websites, the objective is to attract the interest of your potential customers without disturbing them with an intrusive design.
In this article we present to you the main formats of banner sizes and which one to choose for your ad.
How to make profitable its advertising banner?
Banner ads are display ads that will be displayed in Internet users' browsers when they surf on a site other than a search engine. Their main goal is to publicize your mark by touching a larger audience on relevant sites like blogs, online media or even niche sites. It is also a valuable tool for consolidating your notoriety, and retargeting your target in order to increase your conversion rate.
Google ads can have different formats and sizes. In order for them to be as effective as possible, you will have to choose them intelligently and taking into account several criteria.
If this little detail may seem insignificant to you, know that it is one of the most common mistakes made by digital marketers. A mistake that can turn out to be very costly for your business.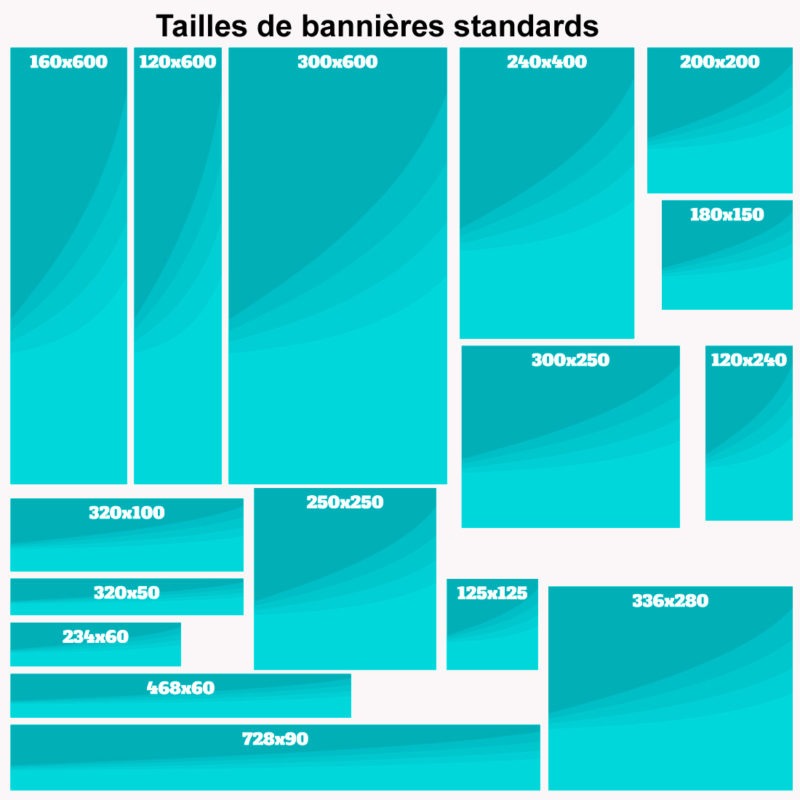 Why is the size of your Google Ads banner so important
Google Ads banner ads come in different sizes simply because each format will allow you to'' achieve different goals. And while the size differences may seem small (which they actually are), their impact will be huge on your ad's performance.
Because an advertising insert must be not only visible, but also attractive in order to make Internet users want to click on it. And to make an ad more attractive and increase its reach, size will come in handy.
Of course, this does not in any way mean that the format does everything, and that an announcement of the right banner size, but with a poorly worked visual you willincrease your sales. But it is nevertheless a good basis. Once you secure it, you can focus on designing your banner.
Choose the format of your Google ad
The good news is that with a basic knowledge of insert size, you can dramatically increase the profitability of your web marketing strategy. This is the whole point of this article.
To begin, herebanner formats most commonly used advertising (in pixels):
The skyscraper - 120 x 600
The large skyscraper - 160 x 600
The small square: 200 x 200
The classic square: 250 x 250
Half a page - 300 x 600
The small rectangle: 300 x 250
The mobile leaderboard: 320 x 50
The large rectangle - 336 x 280
The banner: 468 x 60
The classic leaderboard: 728 x 90
The large Leaderbord: 970 x 90
As we will see below, the best performing ad sizes are the small and large rectangles, the classic and mobile leaderboard, the half page and the large skyscraper.
The 5 most effective banner ad sizes
Before you start invest in Google Ads, you must therefore have a very precise idea of ​​the ad banner sizes that will allow you to generate the most clicks. And therefore sales.
The formats we will present to you are top performers according to statistics shared by Google. These are the ones you should focus on for your ads. In addition to their benefits and advice for choose according to your marketing objectives online, we will specify what their performance is.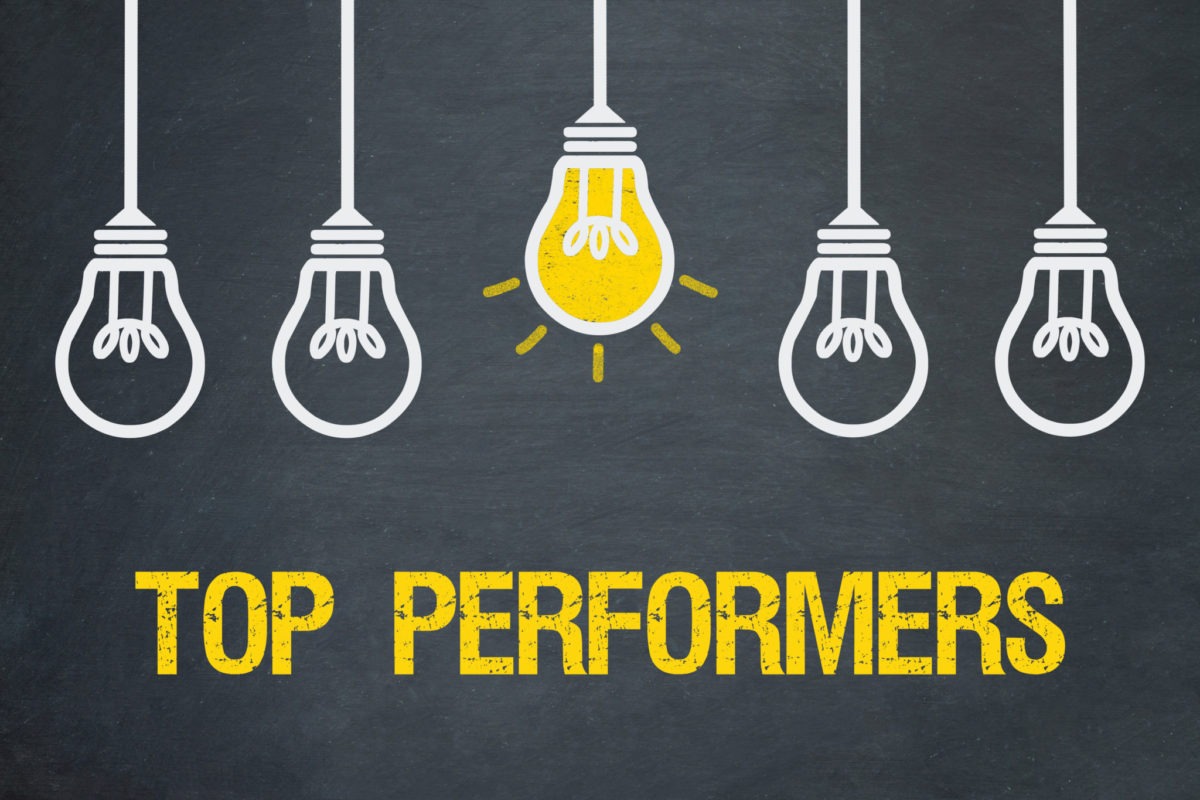 The medium rectangle (300 × 250)
Click rate: 0,13%;
Frequency: 40%.
This is the most compact ad format you can find. Its main advantage is therefore to allow you not to take up too much space, in particular if you plan to integrate your banner into textual content, or even at the end of the page.
It is also a good way to make sure your insert will be accepted. But also to work more easily on your graphic design (especially if you are new to it).
The large rectangle (336 × 280)
Click rate: 0,33%;
Frequency: 1%.
Although this format will not allow you to get as many views as the previous one, it is still very popular with advertisers. It will indeed be displayed optimally in textual content or at the end of the article. And as the banner size is slightly larger, you can share more information about your brand.
The Leaderboard (728 × 90)
Click rate: 0,08%;
Frequency: 25%.
The leaderboard owes its name to the fact that this advertising banner is found most often at the top of the page. So this is a great way toreach as many Internet users as possible. But also to increase your income since you can add both text and images. In general, Google recommends its use on forums.
The half page or the large skyscraper (300 × 600)
Click rate: 0,23%;
Frequency: 5%.
Contrary to what one might think, the size of this banner ad will not cover half of a web page. However, it is much longer than the other formats, which will give you much more space for communicate around your brand and convince Internet users to click on the ad.
In reality, the only downside to this dimension is that it will require you to take care of the graphics of your ad. So it is not necessarily the best choice if you are new to online marketing.
The mobile leaderboard (320 × 50)
Click rate: 1,2%;
Frequency: 12%.
As you can see, this banner format is optimized to be displayed on mobile devices (such as smartphones or tablets). And while it's the smallest ad size you'll be able to find, it's a great way to maximize your number of views and increase your conversion rate on this type of device.
For further:
the tree structure of a website, what a winning approach
Banner ad size: what to remember
You now know the best performing Google ad formats. But also How to choose the size of your advertising banner according to your objectives and the type of pages on which you plan to insert it.
Of course, choosing the size of your insert is only the first step. You will then have to think about its design and your Call To Action. Nonetheless, you now have a good foundation on which to start and all the keys to creating an ad that will best suit your audience.
Please feel free to share your experience with banner format. And to comment on your questions if you need clarification.
Resource: Top performing ad sizes

https://support.google.com/admanager/answer/1100453?hl=en