Have you ever clicked on the second page of Google results?
No, usually no one does. In fact, less than 3% of Internet users reach the 2nd page. All business owners who come to us want their company to appear on the first page of Google results.
There are some recommendations to get your business to the top of search engine results (even Wikihow talks about this). And we have a proven formula to make it happen.
There are several possibilities to reach the top positions on google and also to rank first. Starting with featured snippets, Adwords advertising, natural results, and local ads.
This means that you have four different possibilities to rank your site on the first page. Belmont Web's strategy and philosophy for getting those front page spots and getting ahead of your competition is to ask yourself four important questions first.
So each one coveting a separate part of the results page:
What to do to get an optimized extract with the featured snippets from google?
How do you get your pay-per-click (PPC) ads to the top of the page?
What about search engine optimization (SEO) to shine at the top of the page?
How Can Local Search Engine Optimization (LSEO) Help Get More Keywords on Page 1?
Below you will find the answers to these questions as well as concrete recommendations to help you reach this coveted place on the first page of Google.
Editor's note: we started this article in 2018. Google has since changed.
We've updated it - and we will do it regularly - to reflect the freshest information on how to get your business on the 1st page of Google.
WHAT IS HAPPENING WITH THE GOOGLE ALGORITHM IN 2019
Before you begin, you should know what ranking factors Google is looking for:
When you ask Google a question, you want that question answered, not billions of web pages.


That's why Google's ranking systems sort through the index's hundreds of billions of web pages to provide you with useful and relevant results in a fraction of a second.

These systems rely on various algorithms that analyze your research and determine what information should be displayed to you.

As we have improved the search to make it more useful. It turns out that we have also refined our algorithms to analyze your searches and results more precisely, with one objective: to offer you services that correspond even better to your expectations.


https://www.google.fr/intl/fr/search/howsearchworks/algorithms/
There are over 200 SEO criteria, here's what you should focus on if you want your business to appear on the first page of Google in 2019:
Secure sites (HTTPS in non HTTP)
Mobile-friendly websites
Schematic markup
Quality of page content
Page content length
Page Speed
Social signals
Good quality backlinks
Correctly optimized images
Age of your domain
How to get an optimized snippet with featured snippets?
You will be surprised to learn that 33% of searches on Google do not activate any click! This is absolutely true, and it is because more and more internet users are getting the information they need directly from search results. This through optimized snippets or also called featured snippets.
A text snippet is often used when the search query is a question. Usually referred to as "position 0", optimized snippets always appear at the top of the results page.
It would be a good resolution to get a few pages presented as optimized snippets. Indeed, because Google is very good at offering Internet users results of this type, making its engine a sort of search assistant. Here's what snippets might look like in search results: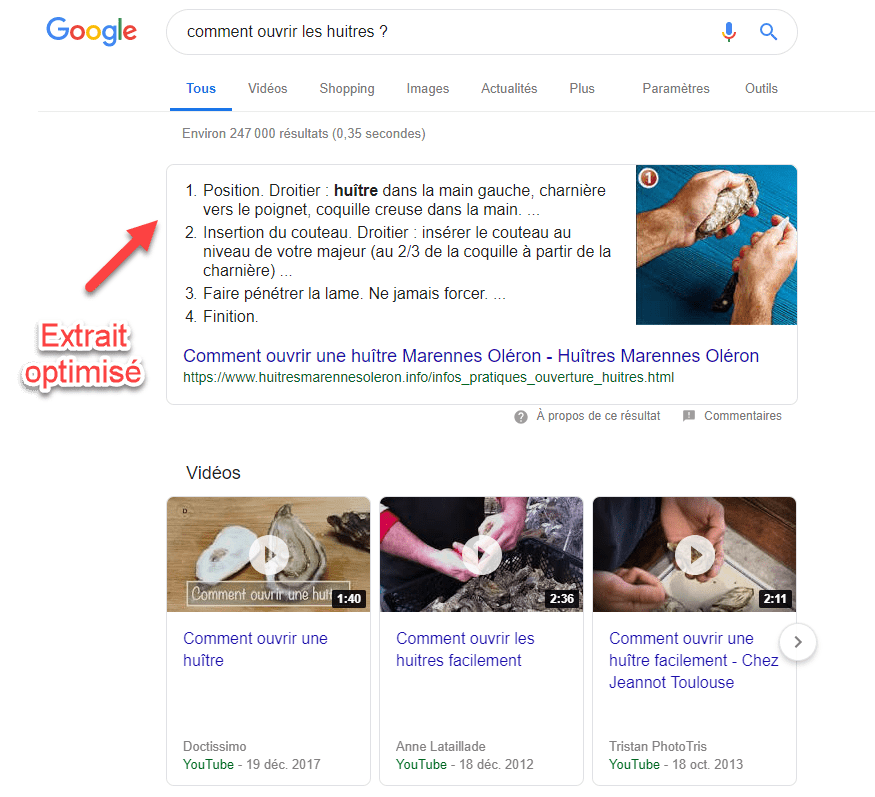 There are three main types:
Certain types of content and queries tend to rank better for optimized snippets: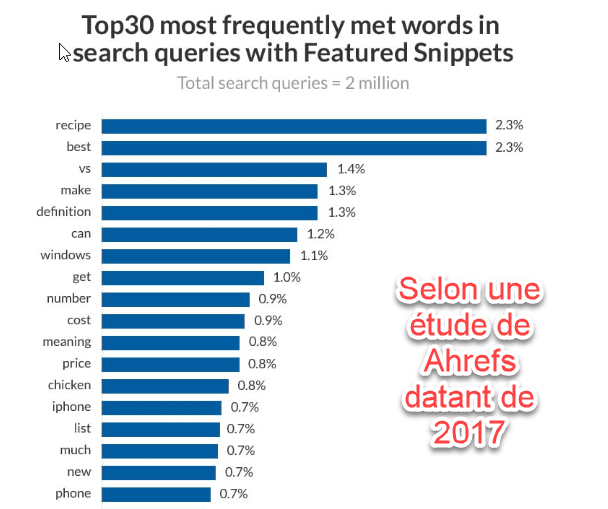 What to do to improve your content for optimized snippets:
Use headers and bullet points
Answer the question clearly
Summarize and condense the information in the answer for a simple and short answer
You must be as factual as possible
Use good images
The main difference between knowledge panel results and optimized snippets is the control you have over its content. You have less control over optimized snippets, however you can claim and edit knowledge panels.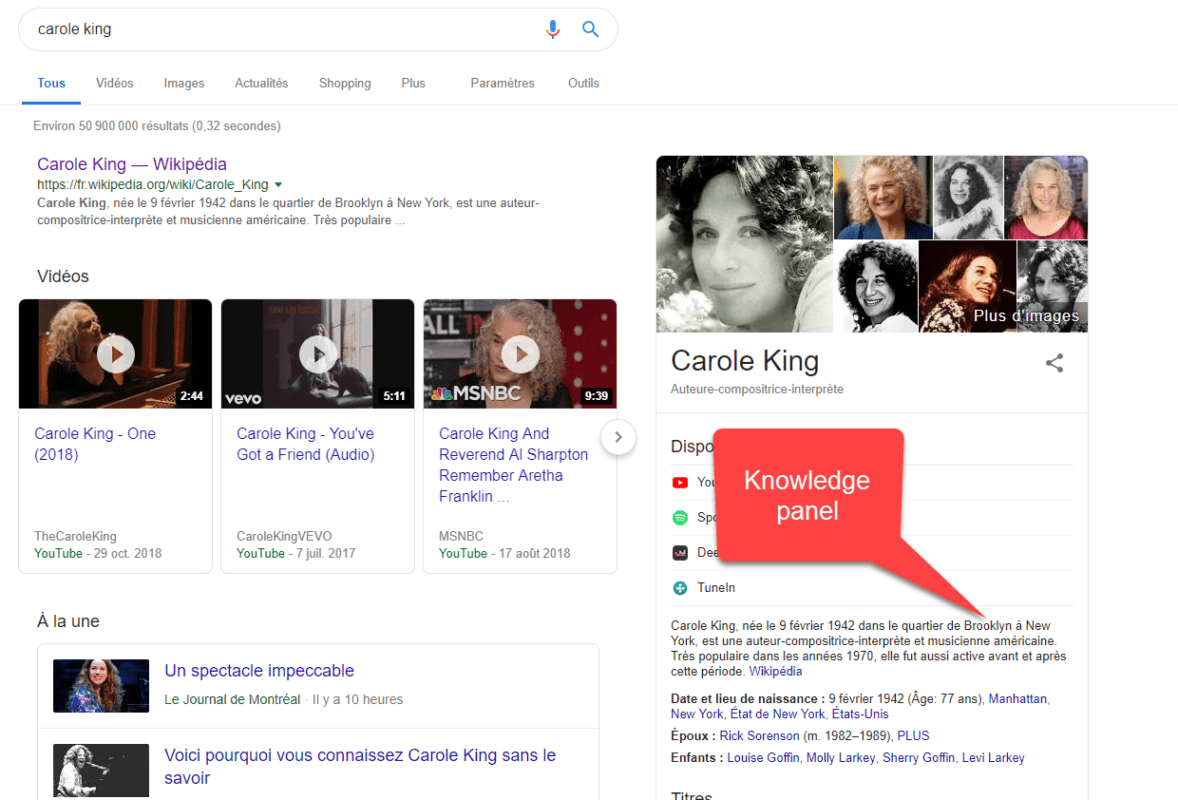 How to reach the 1st Google page for paid search campaigns?
Maybe you think SEO and PPC are at odds, well no they work hand in hand and we recommend that you invest in both. If you want to get to the 1st page of Google today, you will need to invest in paid search.
"Natural" SEO campaigns can take anywhere from a few weeks to several months to show results. There is little chance that you will get more traffic, leads, and sales (non-CPC) in the days after your SEO work.
Pay-per-click ads are still a cost effective way to get more leads and sales on the internet.
Most marketers and advertisers have accepted the fact that some Internet users are "ad blind".
Indeed, often on principle and this means that they do not click on paid ads. But if you look at the Google results page, the first part is ads! If you don't invest in PPC, you are leaving those clicks to your competition.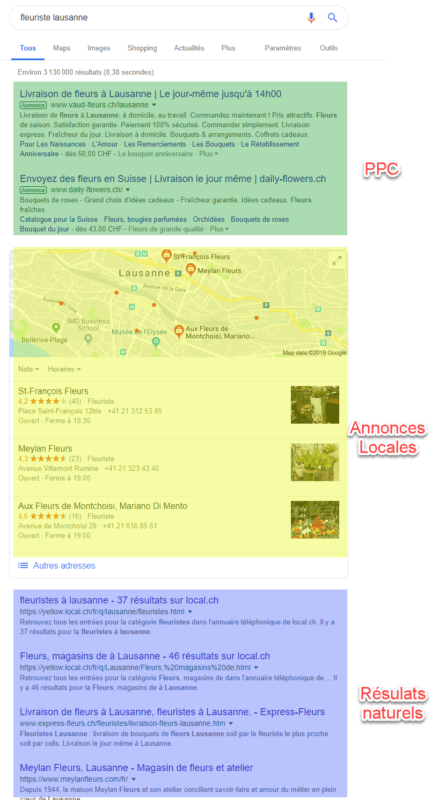 How to improve your ranking in Google through SEO and make your website appear at the top of the page.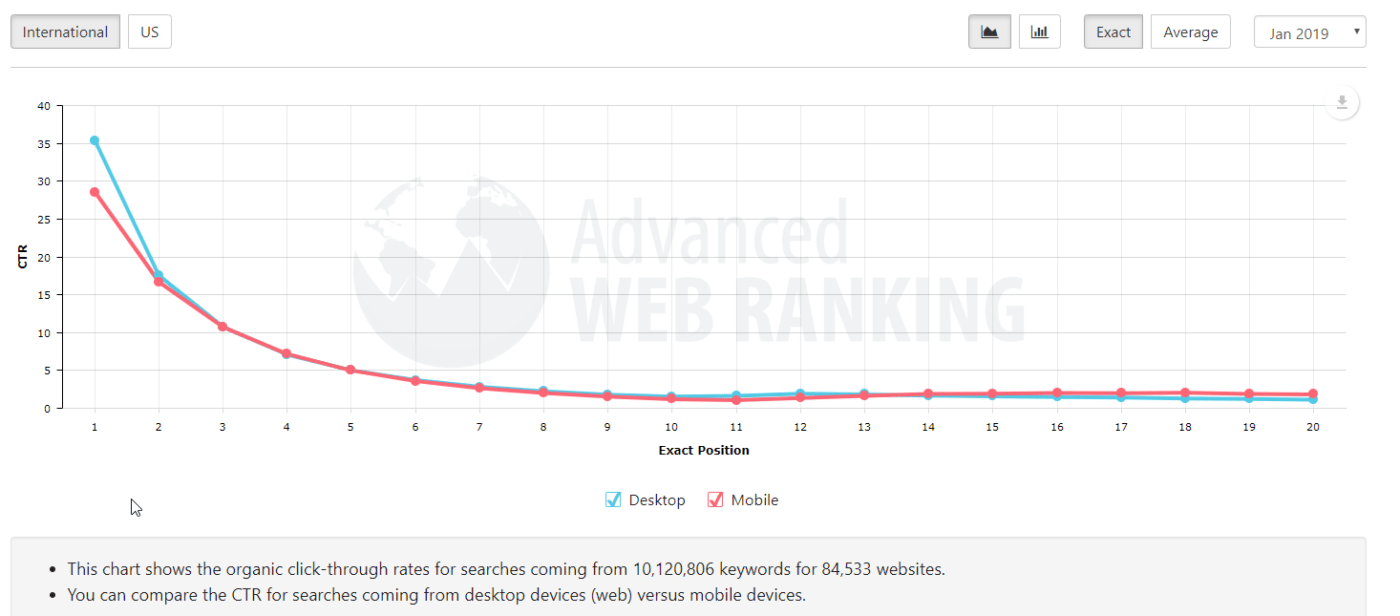 What applied in a simpler format gives this: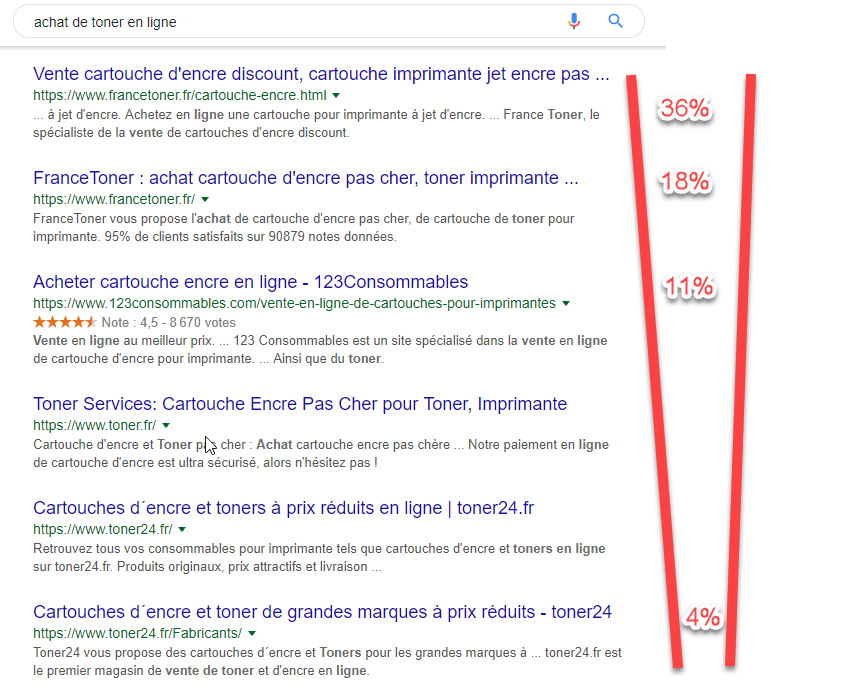 You saw that paid results took up a significant portion of the page, but if you want to rank higher in natural search engines, you have to rely on SEO.
To be clear, you need to be in one of the top three organic positions to get the most profit from it. Why? Take a good look at the illustration above. This is the percentage of users who click on the top of the page. 65% of users click on the first three entries!
It is not easy to find places in these places, especially if you are a young company. The best way to rank correctly is to increase the content of your website. High quality content helps your rankings and at the same time creates a better experience for your users.
In addition, the more value-added information you offer on your site, the more likely it is that other Internet users will refer to it.
When other users link or refer to your site, Google interprets this as more authority for your site. As a result, it displays it more appreciably in the results of its search engine.
However, SEO doesn't just stop with adding content. Technically, you also need to be sure that search engines can crawl, interpret, and index your site. (to know more, test our free SEO tool)
This includes, among other things, improving the speed of your site, having a navigation menu that is friendly to search engines. Likewise with a well structured XML sitemap, create a responsive site for mobiles and tablets.
A good portion of search results is focusing on multiple key words or phrases.
At Belmont Web, we recommend that you always try to place as many results as possible on the 1st page. (We call this "maximizing your online potential".)
How to get more local leads through local SEO
When you google something like "sanitary", "heating troubleshooting", "digital marketing company". Did you perhaps notice that Google uses your location to show nearby businesses.
Also, if you are reading this article, chances are you own a local business. So that you also want to appear in the Google Local Pack. In in these local listings between PPC ads and natural results.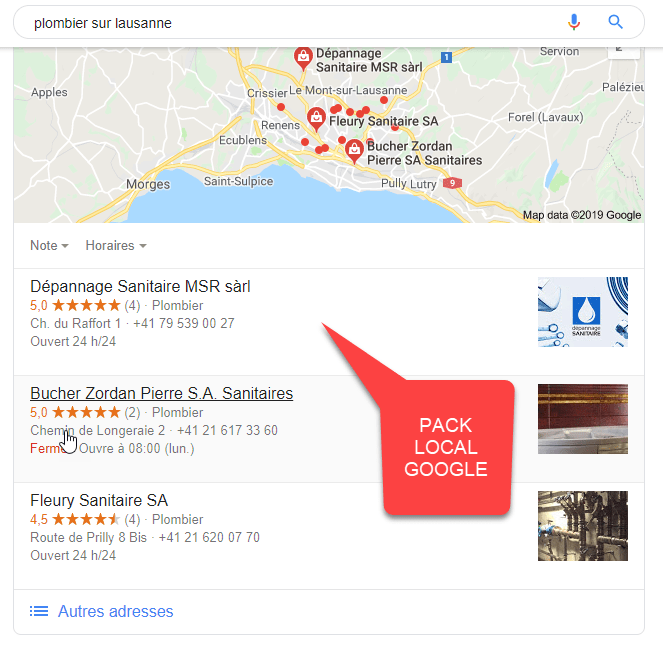 To appear in Google's local listings, you must optimize your NAP credentials (name, address, phone number) on the web. Creating local quotes with consistent NAP information improves your positioning, just like real reviews. As a local business, you need to adapt to local SEO.
Other strategies to get more results on the first page of Google
Obviously paid positions, natural positions and local positions are the three main SEM strategies for your business to appear on the first page of Google.
In short, we have a few other (probably) underused methods to get even more good positioning on the 1st page (following Google's decision to limit results by url)
MINISITES
Quite a few businesses, especially those with multiple industries, opt for multiple websites. These companies tend to have a main domain crowned by one or more minisites.
A minisite is a site used to supplement the core domain of a company. Most often the minisite will have a separate URL from the main domain and will have its own design.
Minisites can help you target different users.
It helps to appear more relevant and to achieve multiple positions in the natural search results.
VIDEOS
In fact, Google displays a number of media in its results, including videos. Take a look at the organic listings below: One video ranks second. A video is 60% more likely to be ranked in a search result than a page about the same topic.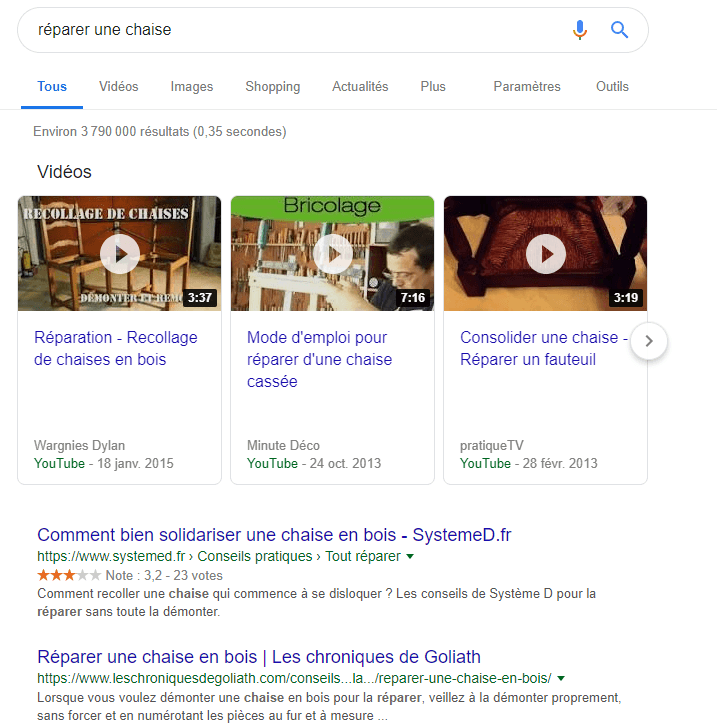 So using a Youtube channel and embedding videos on your site is a really good way to increase your chances of appearing in search results.
Using ads on Youtube is also a great way to bypass natural content and get results directly at a reduced cost per video view.
SOCIAL MEDIA
You are of course familiar with social networks like Facebook, Twitter and LinkedIn. However, depending on your industry, there are other social networks you should consider. Indeed, it could be interesting to register to increase your possibilities of appearing on the 1st page of Google. Where again Pinterest, Instagram, Tumblr are good examples.
IMAGES
Optimizing images on your site can also help you position yourself on the first page of Google when it displays results: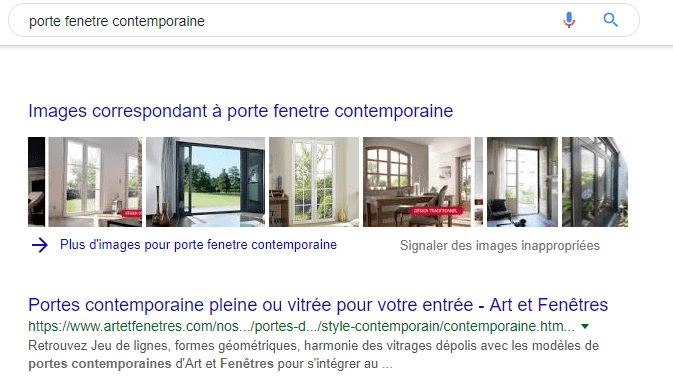 GOOGLE SHOPPING ADS
If your business is e-commerce, Google product ads are another great way to showcase your products at the top of the page: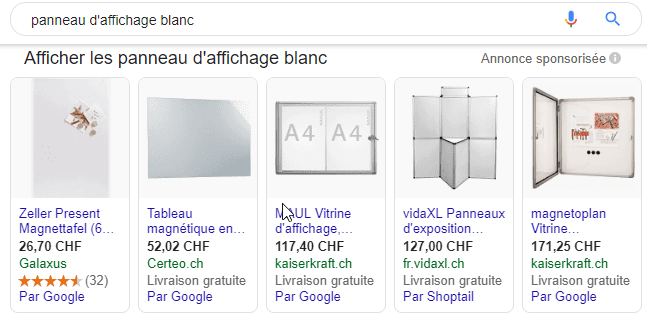 NEWS
Publishing through press releases for your business can on some occasions give you a spot in the News section of Google, especially when it's a brand.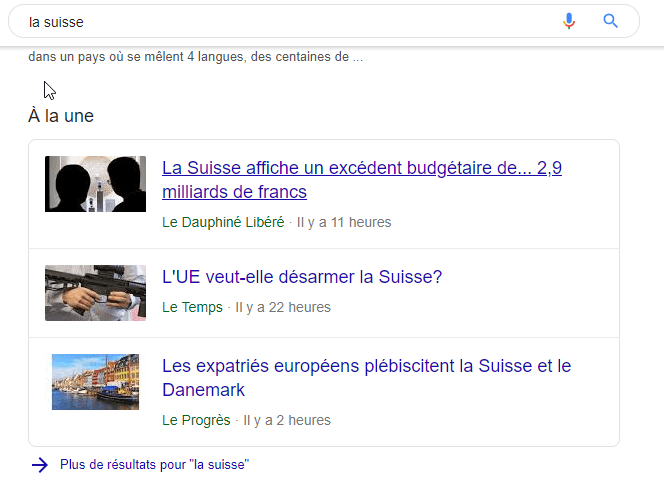 Get ahead of your competition in the search engine results page with Belmont Web services.
What is the point of having a site if you appear far behind your competition. This is the essential point, isn't it? Do you stand out from your competition on Google?
Getting on the first page of Google in just 24 hours has yet to happen, and if you don't have a top partner.
For this reason, give us a call and we will work out a unique strategy for you to make your business, such as creation professional content for your blog.
Subsequently, this will, among other things, allow your keywords to appear on the first page of Google. If for some reason you don't want to talk to people on the phone, complete this form.
We will analyze your site and we will explain what can be done to get your places at the top of the ranking on Google.
This article could also interest you and facilitate your work:
- 100 SEO tools for your site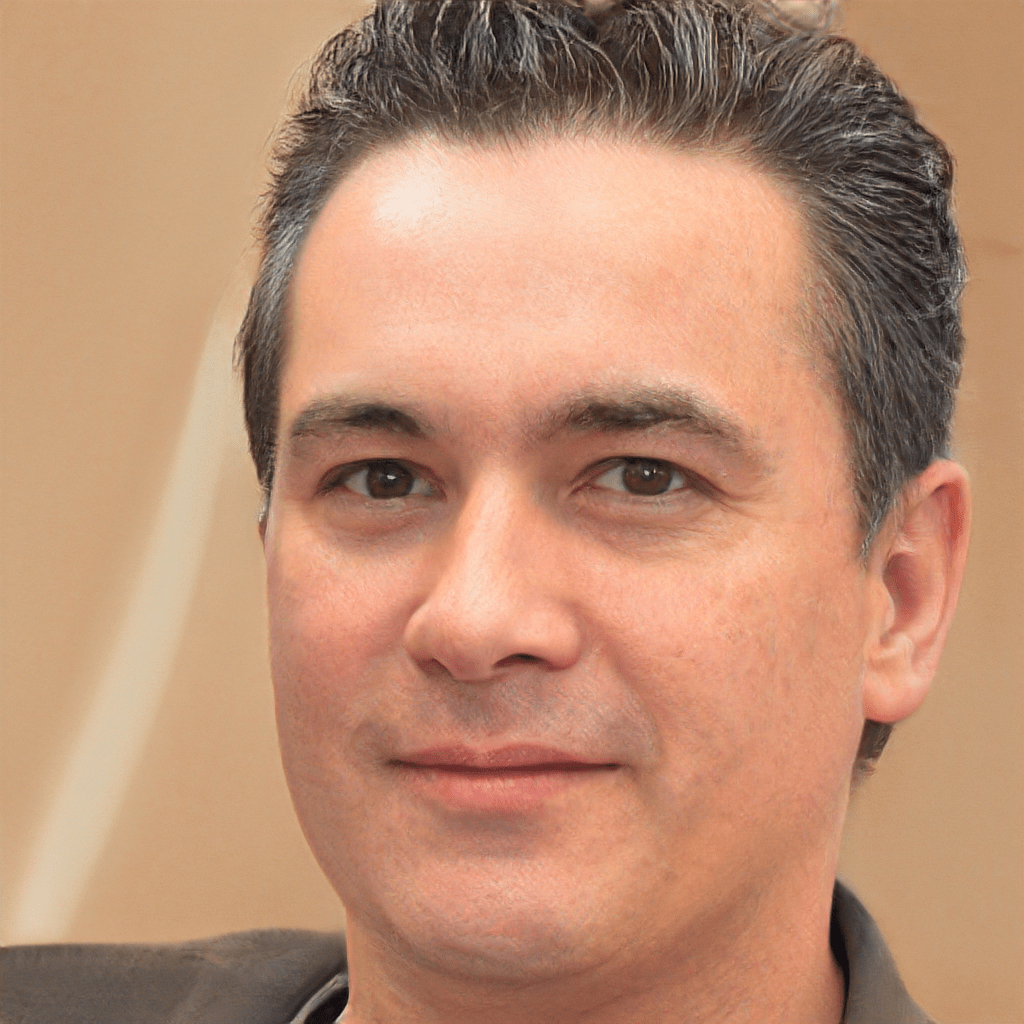 Content strategist, he sends a coherent brand message to the public. His multiple angles of approach allow him to integrate his skills in marketing, in order to identify the needs of the customers and to propose the best products and services.