You are trying to improve photos, but you don't know which photo editing tool free of charge to use? To help you choose the right one for you, we have developed a useful guide.
No matter how good a photographer is, there are always elements that can be retouched. That's where photo editors come in. By the way, to improve quality issues, you shouldn't have to spend your savings to get the effect you want.
As far as photo editing software is concerned, thanks to its power and ease of use, Lightroom is the paid tool of choice.
Your success as a photographer depends on high quality photos. So an eye-catching portfolio to display your work and the proper tools for shooting. Nevertheless, it can be difficult to spend again on expensive photo editors on a tight budget. Especially when excellent free programs are available.
Instead of choosing well-known and expensive photo editors, such as Photoshop or Lightroom, here are the best alternatives. Compared to the free online photo editors they are much less known, but worth it.
There is a wide range of photo editing applications available in the market. So if you don't know the benefits and features of each application, it's often difficult to choose.
There are many tools that incorporate all the necessary features that allow most people to edit their photos. Some software focus on ease of use by providing a simple to use interface, others are more suitable for professional use, with more advanced editing and correction functions, here is the selection for you the best free photo editing software.
Heavy client photo editors (installation):
In fact, Photoscape X is quite impressive for a free program. It is nice to edit and manage your personal image databases. However, PhotoscapeX misses the mark a bit in terms of its interface (a bit disturbing). That said, it includes an image viewer, batch processing, a screen capture system and a wide range of filters. These allow you to take your images to the next level.
The photo editing part of this application is its big plus. And even new customers will be able to create beautiful and visually professional images. All in all, Photoscape X even has a few useful features.
It has a filter to make your photos look like analog photos, a good cropping function, as well as image transformation. In addition it also gives access to more than 240 items, frames and borders, and more than 1,000 patterns to use in your creations.
An ideal tool forBatch image processing and on-the-fly modifications.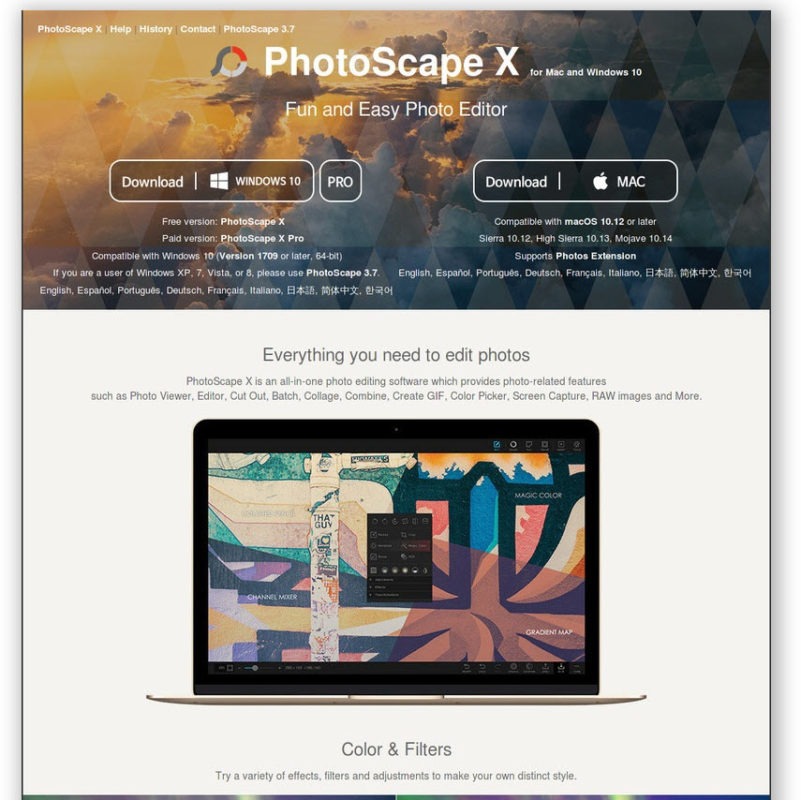 As far as free photo editors are concerned, GIMP is certainly the king. GIMP is the closest free counterpart to Photoshop without spending a cent. Its abbreviation comes from GNU Image Manipulation Program.
It has an impressive amount of professional quality features, a fully configurable interface. Moreover, it allows for precise image adjustment and includes a fully integrated set of tools. This allows the creation of professional quality illustrations.
In general, if you can do it in Photoshop, you can almost certainly do it in GIMP. For example, if you want more choices, you can also use Photoshop plug-ins. These give you unparalleled flexibility compared to any other free photo editor.
GIMP is also open source, which means you can add your own filters and features if you want the know-how.
If you are experienced in image editing software, you should be able to master GIMP fairly quickly. But those who are not familiar with this type of image editing tool may find the interface unintuitive. All in all, a reasonable compromise that you get without paying a penny for editing.
An ideal tool for: Experienced users and those who want a free tool with pro image processing power.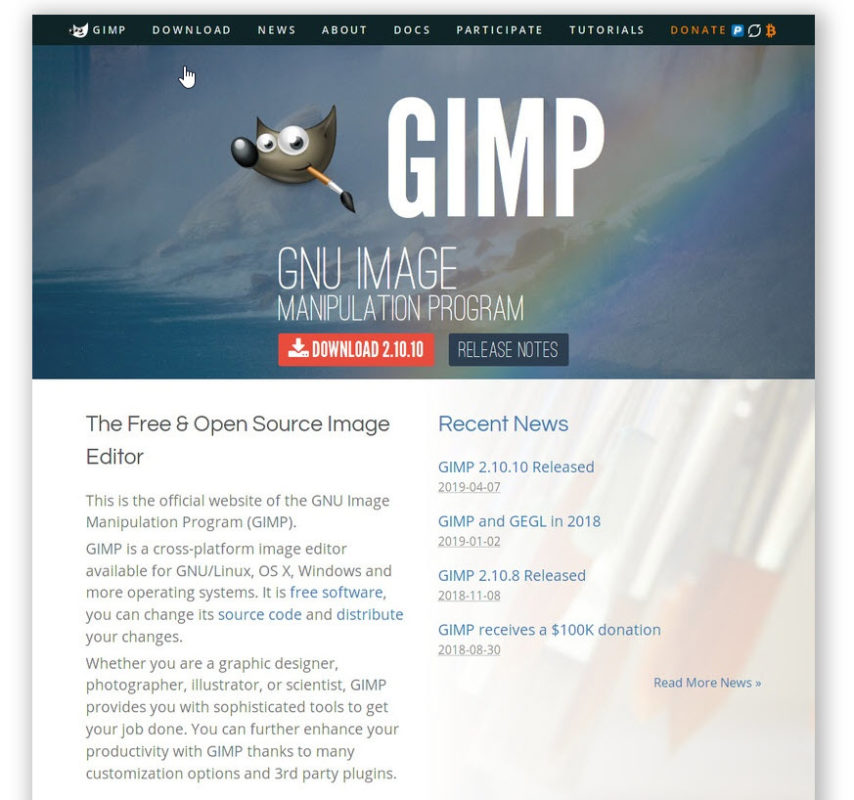 Free online photo editing:
Not the kind of person who takes the trouble to make quick changes to your photos? Like registering before using Pixlr's countless options? Still, those few extra minutes are worth it!
The photo tool is available via your browser, iPhone and Android. This online photo editor offers you a lot of super simple features in one click. Besides, it is a relatively robust set of tools. For us the most interesting feature of this application is its simplicity of use. Indeed, it includes tutorials to guide you through the most complex features.
Besides, this tool is very quick to learn. If you have basic knowledge of photo editors, this is an excellent option.
The publisher also offers Vectr (free vector graphics editor). Free graphics that you can use in your creations, as well as a significant choice of free stock photos if needed.
A small warning. Lhe best stock photos are locked and paid for, although this application is free to use. If you plan to take advantage of the more sophisticated features, you'll have to upgrade to the Pro version. For now, however, it remains one of the most downloaded iPhone photo editors in the world.
An ideal tool for: demanding beginners, for a quick and easy processing of your images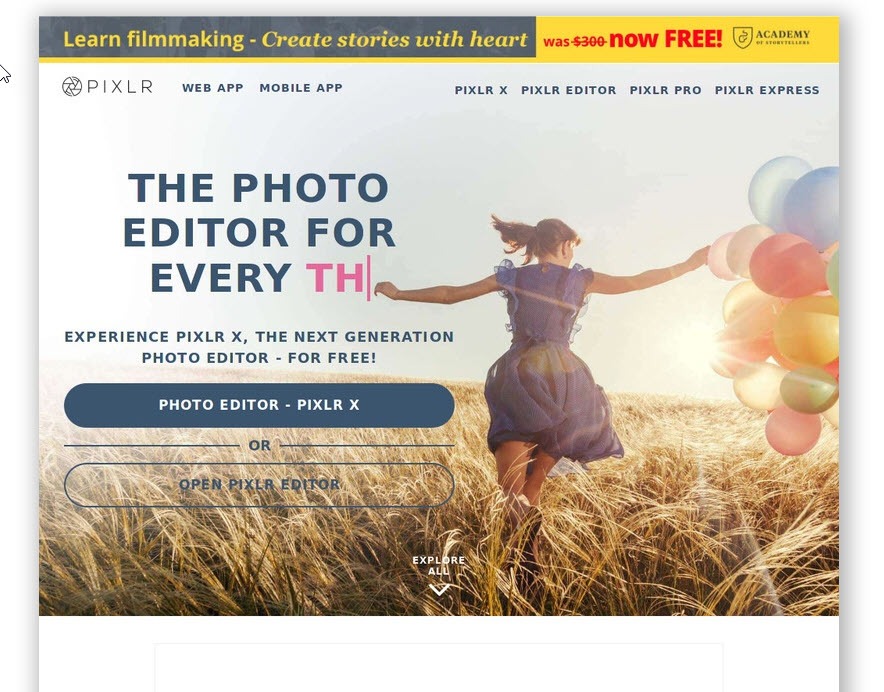 The free online photo editor Fotor is an outstanding tool. It has a user interface that is so easy to understand and equally easy to use. Not to mention some browser-based tools that regularly crash, Fotor's fludity is excellent and doesn't use too many system resources. And because of that push your computer like an overheated jalopy and waste your time.
Fotor offers a good collection of adaptive filters, as well as a very nice photo collage tool. Moreover, it is able to handle RAW documents without too many problems. By the way, Fotor also has other design features. Specifically business cards, social media images, posters, banners, discs and invitations that will be useful for bloggers and marketers.
Fotor has no real artistic features. It lacks the brush and high-end effects, compared to the other editors on this list. However, it does very well and is suitable for general photo editing for those who do not need sophisticated features.
An ideal tool for: confirmed amateurs and beginners, influencers on social networks and webmarketers.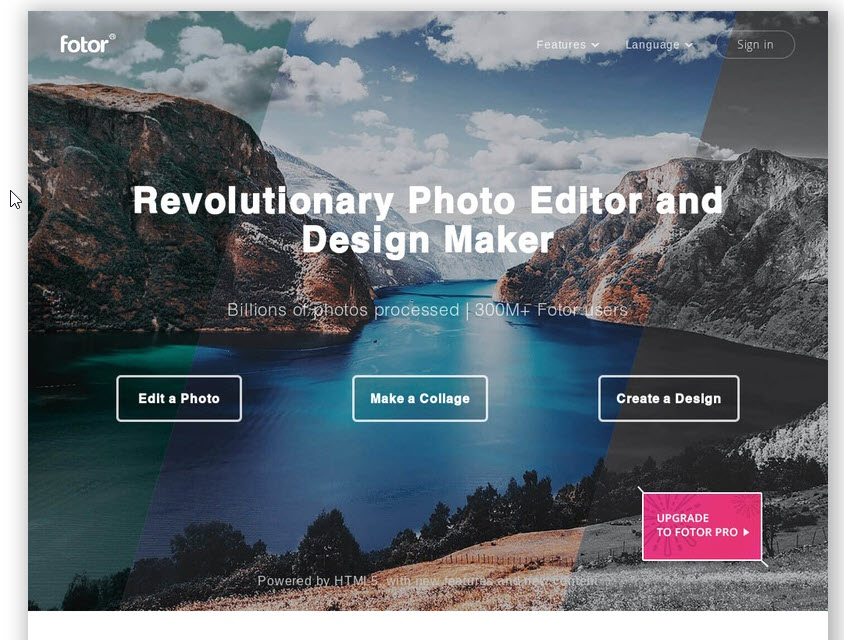 Befunky is one of the best performance options on this list, it is a simple and intuitive tool. It has an amazing range of options as well as a simple and elegant collage function to enhance your images. This is one of the easiest photo editors for us
Like Fotor above, Befunky also includes many creative items. These allow you to produce beautiful postcards, brochures, posters, PowerPoint presentations and invitations in a few steps.
Your goal is to publish information on social networks, impressions or a customer presentation? Then Befunky is an excellent choice. Although it lacks some features compared to the other alternatives on this list... It would be hard to find a faster and more efficient tool to create items easily.
Ideal tool forBloggers who want to create images for social networks.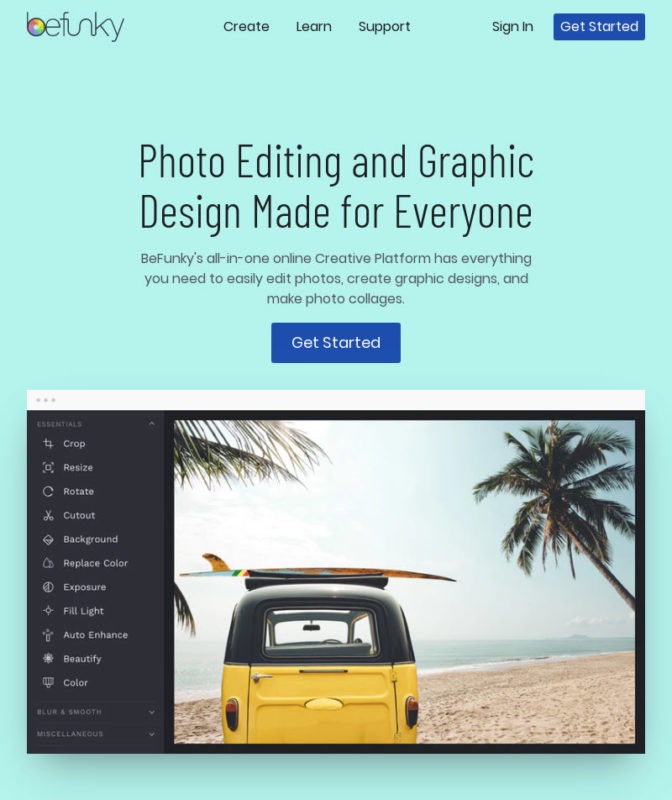 Honestly the best feature of PicMonkey is its ease of use compared to more sophisticated alternatives on our list. It's simple and the user interface is user-friendly and intuitive, and it does so in a logical way without complicated tricks. In short, PicMonkey is available for those who don't know how to use it.
Moreover, it offers a very good, even excellent collage tool that surpasses most other photo editors in the "easy" category.
It also has all kinds of useful templates that speed up your work. Indeed, it facilitates the creation of headers for facebook, banners for blogs or websites and advertising materials.
Despite the fact that PicMonkey can only process one file at a time, it is an online photo editing application that still offers good possibilities.
PicMonkey has additional features on the freemium model, like many other editors on our list. To access the paid features, you can take a 7-day free trial. However you must choose a billing option to access them.
Ideal tool for: bloggers and web designers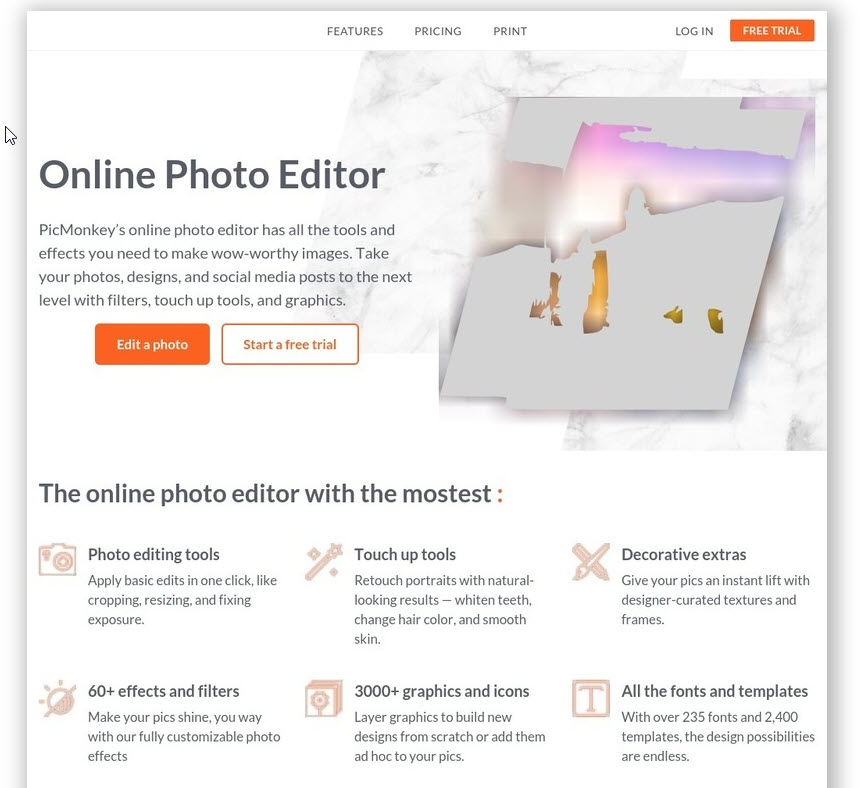 More resources for your marketing:
How to follow your positioning?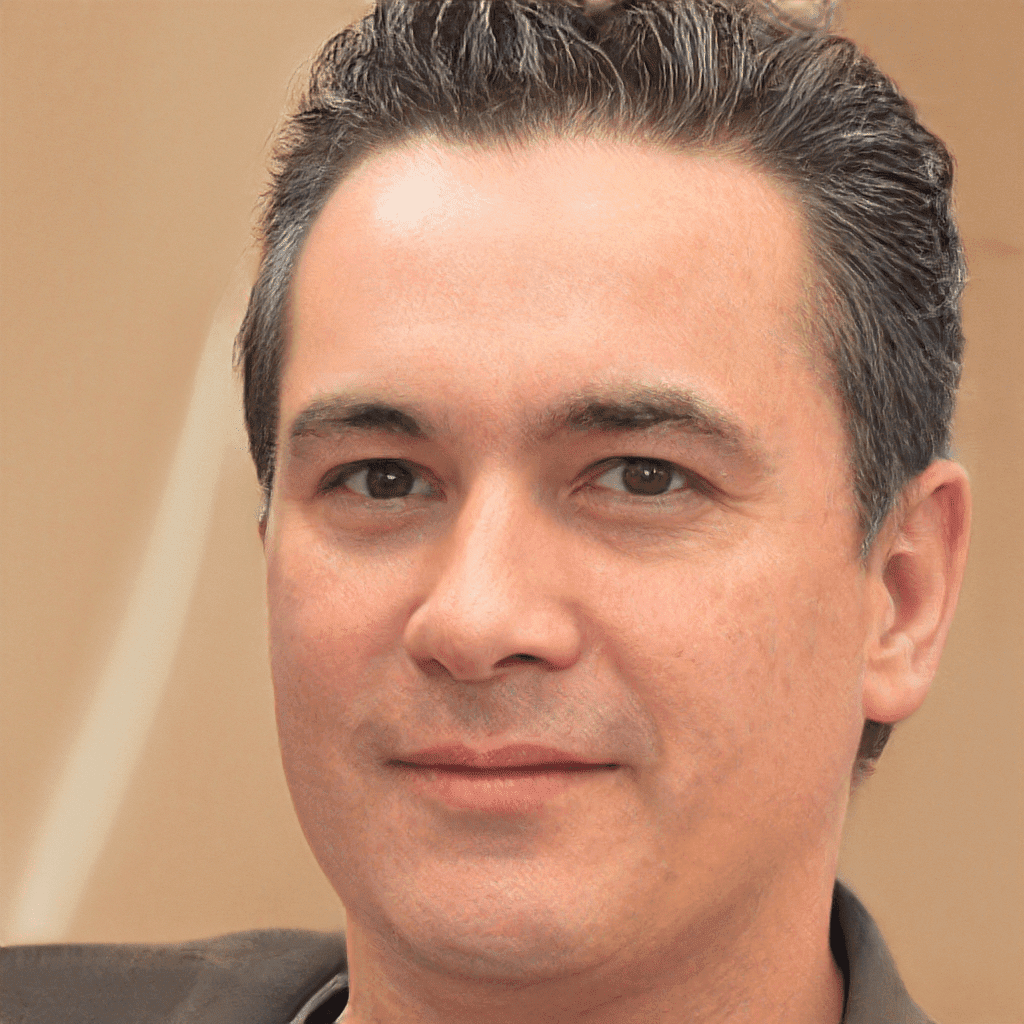 As a content strategist, he brings a coherent brand message to the public. His multiple angles of approach allow him to integrate his marketing skills to identify customer needs and propose the best products and services.